Testimonials
Hi y'all,

Recently I had to change computers and I was scared out of my mind about transferring data from the old one to the new laptop.

Luckily I saw an ad in our local newspaper and 'rediscovered' Sean. He used to fix our computer when we lived on the island many years ago and then I lost track of him after the move.

To make a long story short, Sean

remotely

guided me through the whole transfer process,

never setting one foot in my home! He was most patient and courteous, thanks to his long

history of experience dealing with people like me

;)

and after many of his encouraging words

he got my computer on line and up to speed! Honestly, Sean has the patience of a saint and I'm a happy camper.

I am taking the liberty to forward to you his website and the info. below on the Computer Club I joined and I encourage you to look into it. For $27/mo. you become a member, your computer is being checked weekly for malware, viruses and optimal speed. It does not matter what State you reside in, he is only a mouse click away and you are back in business in no time!

Thanks for visiting Sean's website! I trust Sean with all my heart!!!!





Sean McCarthy has been my source for fixing my computer when things go bad with my laptop. He has worked on my computers, at least, six times over the past few years. Sean has also been a source of information, and immediate assistance, when needed. Sometimes, I just wanted my computer to be working again and not have to consider buying a new laptop and learning another computers operating system. I pay my auto repair person good money to fix my car when I can't drive it, for some reason. I pay my orthopedic surgeon really good money to fix my shoulders and knee when they needed to be surgically repaired. I pay Sean McCarthy what he asks for because of the same reasons I pay good money to the Dr. & Auto Mechanic. Sean McCarthy fixes my computer, tweaks it so that it runs efficiently, and answers any questions I might have. Over the past twenty years of using computer Doctors to fix a problem for me, Sean is, by far, the most trustworthy person I have ever let touch my computer.


I don't normally do this but this is one vendor that I highly recommend. I pay $27 a month and he keeps my system up and running and free of everything evil. He's on call 24/7 (I think, I've not ever been unable to reach him when I needed him). He saved my bacon more than once and really knows how to dig deep to solve my problems. I honestly believe that he has saved me more than I have paid him – both in hardware and software.

He comes on line (with your permission and at your convenience) once a month, bangs around for five or ten minutes and bang… clean system, doing what it should w/no worries on my part. I highly recommend him.

Carl, Florida

I had used Sean's computer expertise for 15 years in my audio recording business, so I didn't hesitate in seeking his help to create

OutOfTheBlueAudio.com

,

my website offering

C

R

A

Z

Y

cell phone ring tones, radio ads and emailed messages in several cartoony voices, and scriptwriting! A vast array of Sean's technical and creative skills were needed to meet my requirements for a totally user friendly platform. They included animation, graphic art, knowledge of different cell phone operating systems, web design and web engineering. I couldn't be more pleased!




Blue Hoyt, Stuart FL



I have known Sean McCarthy for many years. And I have always been able to rely on him for my computer needs. I am a solo attorney running my own practice, and like most small businesses. I rely on my office computers to stay profitable. Recently, when my server went down with a virus. Sean jumped right in and was able to get all of my programs and data switched over to the new computer. And he was able to do it remotely! I would not hesitate to refer Sean for any of your personal or business computer needs.

William F. Gallese, Esq., Stuart,FL




My computer was so slow that I thought I had used up all of the memory and I was about to go out and replace the entire computer with a brand new one. I saw an article in my local paper from a computer repair guy called the MouseWhisperer that said he could fix computers on the internet and listed a very reasonable price. Since I had nothing to lose, I called Sean McCarthy and after explaining my problem, he took control of my computer and within minutes my computer was operating like new. Sean took the time to explain why the computer slowed down and also replaced my security system with a free system. All of this within one hour and at a very reasonable price. No waiting at home for someone to show up. Just one phone call and the problem was fixed.




Dan





Just a note to tell how grateful I was to find Sean McCarthy, Computer Guru, and COMPUTE THIS to repair my computer. I have been reading his articles for the past couple years and made the decision to call him instead of taking my computer to a shop. Inadvertently, after a power outage, I had pressed the F10 button on my keyboard and lost all my files, documents, pictures, folders, etc. I contacted Sean, who was friendly, patient, extremely knowledgeable and able to restore what I thought to be lost data. All the work was done on the phone, over the internet and in less than two hours, my computer was up and running with all my data back and in tact. He performed what he called "a data transplant" and I must say it was "painless." I have already recommended Sean to several of my friends and once you have called him, you will realize what a great decision it was. Thank you, Sean !




Alice





As a long-time telecommunications industry employee, I really appreciated Sean McCarthy's (Compute This) comparisons of using dial-up internet or DSL to driving on U.S. 1 or driving on I-95.




Cathy





Sean, First things first. From where I stand, any time I happen to be the one that rescues the Hometown paper that flies on to my lawn, I search for your article on the way back to the house. By no stretch of your imagination do I know what's happening behind the monitor and because of that, words from you borders on hearing stuff coming from above. In one since, your articles are so refreshing in that, they're not political or biased but informative and keep us wanna-bes out of trouble. Thank you very much.




Joe





Once again thanks for your excellent, informative and understandable articles in Hometown News about running computers. I have taught computer basics to seniors for more than six years, but I always find clear and useful information in each of your articles. I cut them out and save them.




Jerry





Dear Hometown News, Although I did not have a computer or even desire or need one at the time; I have read Compute This from the first time it appeared. I knew that one day I would want and need a computer, so figuring I would need to know some things about computing, I began reading Sean's column every week. Now, I will say that much of the time I didn't have a clue, but slowly things began to make some sense. Everytime the Hometown News appeared in my driveway, (which was sporadic), I faithfully read the Compute This column. Over the years I have learned from Sean's column and filed things away in my mind when he wrote tips to manage one's computer, or things to watch out for. Remember that I still didn't have a computer to put into practice what I'd learned and even now there are things that I don't understand but I gleaned enough to be able to walk into the library and use the computers there with my very basic skills. You will have guessed by now that I have FINALLY bought a computer and am at least able to do email and the internet and a few other things on it all due to having read Compute This over the years. I consider that pretty darned good for a person who's never had a single computer lesson. I did call Sean before purchasing to discuss with him a final run through of what I should probably get in this year of 2008 and was wowed when he patiently and throughly explained some things to me. All these years I've read in his column that he will be happy to help people over the phone but life has taught me to be jaded and I didn't REALLY believe he meant it. Now I know he did indeed mean every word. It's a very good feeling in this day and age when someone is willing to take the time to help others without expectation of monetary gain. I would like to thank you for running his column and him for writing it. I am now going back through your archives to re-read his colums now that I can practice what I learn.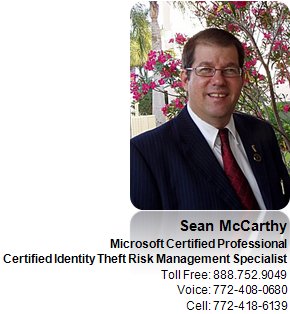 Sean@ComputeThisOnline.com
Home
Gift Shop
Services
Remote Support
Newsletter Archive
Links
Privacy Policy


Compute This...