On 9/17/09 this newsletter (#4) was published with the following introduction. It was promptly

"banned"

by the Constant Contact system for a "terms of service violation" and my account threatened with termination.

I am including the offending copy in this archive and I invite you to make up your own mind about the whole thing.
Here is the full copy re-submitted for your consideration.
Dear ComputeThisOnline Reader, 09/17/2009
As a technology writer I have had many opportunities over the years to test and write about different technologies. Mainly computers, peripherals and internet stuff but occasionally I do look at other things that technology throws my way.
This week I thought I would write about the new "electronic cigarettes" that I recently got involved with.
Now apparently these things have been around for a while but I only recently became aware of them. They are marketed as a

"logical smoking alternative" by a company called inLife and they have caught my attention for a number of reasons. First of all I have been a smoker for decades so in a way I'm kind of an authority on it - I know what it feels like to smoke, what it costs and also what it feels like to run out of cigarettes. I know what the health risks are, I know about the yellow fingertips, the bad breath and yellow teeth, the burns on shirts and carpets, the nasty overloaded ashtrays and I know what it's like to stand outside of a restaurant in the rain to have a cigarette.
When I was shown this device, this "smoking simulator," for the first time it almost seemed too good to be true and, no matter how I look at it I can't find any significant down side to it.

There is no fire, no ignition and therefore no smoke, just water vapor that evaporates quickly after delivering a dose of tasty nicotine in about the same quantity and sensation that you would expect with a "real" cigarette. But, since there is no ignition, you have none of the by products that you get with a real cigarettes. You can also smoke these most places where smoking is prohibited.
Furthermore there is the cost; the device consists of 3 parts - a battery, an atomizer and a nicotine cartridge. Each nicotine cartridge is approximately the equivalent to a pack of cigarettes and when purchased in the convenient "4 pack" (4 eight pack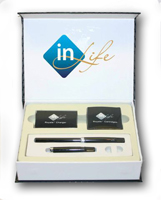 cartons - 32 cartridges or a month supply), averages down to about $2.50 a "pack." Compare that to the $5.50 plus prices that are commonplace for traditional smokes.
The cigarette only "burns" when you draw on it so there is no burned out butt wasting away in the ash tray nor does the device annoy the people around you. The sensation when you use it is remarkable and I still chuckle when I see a smoker tentatively try one for the first time only to exclaim "oh my God, it's real!!"
To say that the company has an interesting marketing strategy is putting it lightly; everyone who purchases a device also has the option to become a distributor and receives a free replicable website at no extra cost. That means when people come up to you and ask a bunch of questions (or where they can get one), you can just give them your web address and let it answer any questions for you.
My inLife website is:
www.myinlife.com/seanmccarthy
and can also be gotten to by clicking any of the pictures above.
If you are a smoker (or if a loved one is a smoker) and you would like to learn a way to satisfy that craving without the over 4000 nasty chemicals found in regular smokes, turn your volume down a notch (trust me ;) and click on
my inLife site
and learn more. Then, let me know what you think; I can't be the only one that thinks this is too good to be true!
Oh, and enjoy this weeks newsletter!
Cheers!
Sean McCarthy